Request A Free Demo

What We Do

Products & Services

Window Stickers & BG's

Data Feeds & Partners

Inventory Templates

Website Templates

Mobile Websites

Internet Lead Management

Prospect Follow-Up

Vehicle Matching

Customer Follow-Up

Craigslist

Live Chat

Video

Web Mail

eBay

Reseller Opportunities

Contact Us
CUSTOMER FOLLOW UP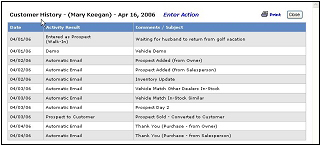 Customer satisfaction and retention are more important than ever. Our flexible, affordable system simplifies contacting customers regularly with compelling, personalized information to maximize CSI scores, keep customers coming back for sales and service, and garner more referrals in the process!

Our automated follow up sends emails and letters quarterly, plus on special occasions - such as birthdays, holidays, or when the salesperson leaves. For "hands-on" management, a simple tool creates custom emails and letters on demand to supplement the automated ones. You can even create "Send To" lists, directing those letters to specific subsets of customers or prospects.

We'll take the work and expense out of maximizing the value of your biggest asset - your existing customer base! Contact Us today.

To Request a Free Demo, click here!