Request A Free Demo

What We Do

Products & Services

Window Stickers & BG's

Data Feeds & Partners

Inventory Templates

Website Templates

Mobile Websites

Internet Lead Management

Prospect Follow-Up

Vehicle Matching

Customer Follow-Up

Craigslist

Live Chat

Video

Web Mail

eBay

Reseller Opportunities

Contact Us
MICRO SITES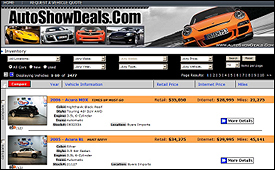 "Microsites" are a new trend in online vehicle marketing. Microsites are supplemental websites devoted to a specific topic or event, or branded separately from other company products. They usually have unique domain names, relating to the restricted content They can also be used to track results from specific campaigns- TV, radio, print, or Internet.

Examples include themes such as: Auto Show Deals, Tent Sale Event, Spring Service Specials, and Certified Used. Other popular uses for microsites are direct marketing campaigns, radio campaigns, and Search Engine Marketing campaigns.

Utilize our existing sites or allow us to custom design your own

To contact us, click here!