Request A Free Demo

What We Do

Products & Services

Window Stickers & BG's

Data Feeds & Partners

Inventory Templates

Website Templates

Mobile Websites

Internet Lead Management

Prospect Follow-Up

Vehicle Matching

Customer Follow-Up

Craigslist

Live Chat

Video

Web Mail

eBay

Reseller Opportunities

Contact Us
COMPLETE WEBSITES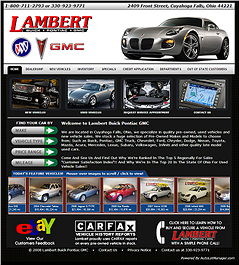 Because our Inventory Module includes a complete database of a dealer's used and/or new inventory, integrating our Website Templates with our Inventory Module creates unique opportunities and capabilities at affordable pricing. Specific categories or vehicles can be featured on the Home Page. Examples include: Budget Vehicles, Vehicle Types, Manager Specials, or scrolling aged inventory.
Many different templates are available; utilizing various color schemes, logos, and content give the appearance of customization without the associated cost and involvement. Our Templates all load quickly, navigate easily, and highlight key content for maximizing site effectiveness and conversion. We also employ the latest Search Engine Optimization techniques to maximize exposure. Full Reporting is included, detailing traffic sources, patterns, and keywords.
Many of our inventory clients switched from national competitors to our Websites for the cost savings and improved responsiveness, and yielded better results in the process! Our Website Templates are affordable and effective, with quick turnaround times. But "customer service" is perennially mentioned as the top reason for satisfaction.
Our development team has been creating and hosting auto dealer sites for over 15 years. Contact Us to discuss how we can improve results, save money and reduce the stress and workload typically involved with website changes.
To Request a Free Demo, click here!