Does the average website visitor prefer live chat?
With the increase of social channels, the website automotive consumer now has an expanding number of options for communicating with customer service representative in real time.
It is noted, that in the United States, that 21% of online shoppers prefer live chat. This is close to the same number as those who prefer using the telephone, 23% and tenfold the times of social media, at 2%.
Time is a key factor for the online automotive consumer. Of those consumers who favor live chat, 79% said they did so because they get their questions answered quickly and 46% agreed it was the most efficient communication method available.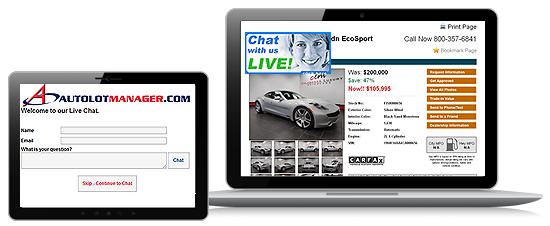 With AutoLot Live Chat, dealerships can now take advantage of this preferred method of communication and talk to their consumers' real-time, providing immediate answers while increasing sales opportunities!
Features Include:
Track Visitors
Review Transcripts
Track Foot Prints
Initiate Chat With Your Website Customers
Presence Aware
Unlimited Seats (Users)
AND MUCH MORE!
Turn Your Prospects into SOLD Customers Today!
To Request a Free Demo, click here or For Sales Inquiries Call 330-865-7641 ext. 105