Did you know that mobile marketing is about much more than sending text messages? There are MANY effective ways mobile technology can be utilized to grow your business.
Did you know that business to business (B2B) mobile marketing will grow from $26M in 2009 to $106M in 2014?
Did you know that there are over 4 billion people worldwide using mobile phones vs. 1.1 billion using computers?
Did you know that the total number of mobile phone subscriptions worldwide has reached 4.6 billion and is expected to increase to 5 billion in 2010? And that consumer internet use on mobile phones has increased over 1200%?
The options are really exciting and the opportunities are plentiful! So, take advantage of this exciting opportunity with AutoLotText!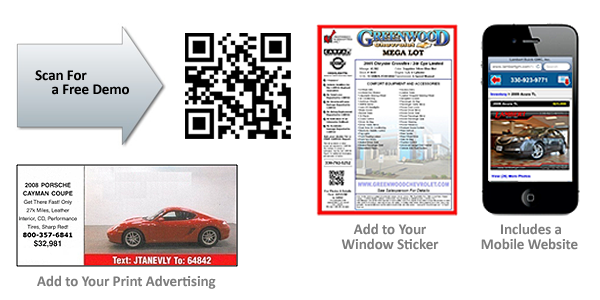 With AutoLotText, you can now capture car shoppers' cell phone numbers in real-time. AutoLotText allows car shoppers to get more information, in real-time, about a vehicle while using their mobile device. It's simple and easy to use!
Features Include:
Real-Time Internet Leads - 24/7, 365
Capture Cell Phone Numbers From Car Shoppers
Mobile Website For Entire Inventory
Access Database of Cell Numbers Real-Time
Access Database of Mobile ID-Numbers
Use in Unlimited Media Sources - Print Ads
Window Stickers, Websites
QR Code for Immediate Response & Ease of Use
Compatible with Most Mobile Devices
Over 1 Billion Text Messages Sent Daily
Over 70% of Mobile Phone Users
Send Text Messages
Affordable and Cost Effective
And MUCH MORE!
Take Advantage of the Most Popular & Often Used Form of Communication Today!
To Request a Free Demo, click here or For Sales Inquiries Call 330-865-7641 ext. 105