AutoLotManager offers its Inventory Module 4.01 to help dealers collect data and photos, create Window Stickers and Buyers Guides, and display new and/or used Inventory online. Clients can choose the control and savings of "Self-Service" or the convenience and professionalism of our "On The Lot" full service for collecting data and/or photos.
Our Website products focus on Inventory display, from "Listings Page" templates to complete dealer sites for independents, franchised dealers, or dealer groups. Video and Phone Tracking partnerships enhance lead generation and conversion rates.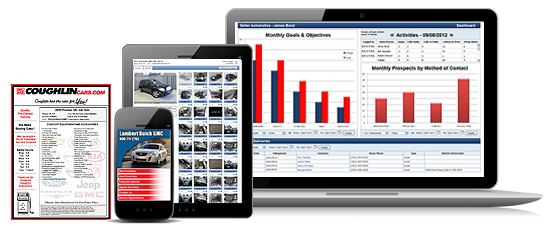 ALM's Complete Version includes Inventory functionality and ties that database into a robust, easy to use, affordable CRM system. Automatically contact prospects with potential vehicle matches, compile relevant statistics for advertising and salespeople effectiveness, and follow up with past customers on a regular basis.
Our newest product, AutoLot Auction allows dealers to electronically buy & sell wholesale vehicles and aged units at a fraction of the traditional auction fees. The result is better inventory management.
The process is simple! Once your dealership subscribes to AutoLot Auction, vehicles can be manually selected or automatically sent to the auction based on the Age of the vehicle (days in inventory). For ease of use, both the starting auction and buy now price can be scheduled and automated. AutoLot Auction saves your dealership valuable time by setting-up and creating vehicle alerts that will notify you when a matched vehicle is added in the auction. AutoLot Auction can save your dealership thousands a month by eliminating "Wholesalers" by selling your "Passed" vehicles directly to other dealers. AutoLot Auction can save your dealership even more money compared to standard auction purchase and sale transaction fees! SAVE $1,000's! AutoLot Auction charges a very modest monthly service fee to sell and or purchase unlimited vehicles! And don't worry about "IFS" as CarFax reports are available within each auction listing.
Key Features & Benefits!
SAVE $1,000's Compared to Traditional Auction Purchase & Sell Transaction Fees!
Purchase & Sell Unlimited Vehicles for One Modest Monthly Service Charge!
Eliminate Wholesalers and Make More Money on Customer Trade-Ins!
No Need to "Pass" on Customer Trade-Ins!
Automate Inventory Based on Age/Days of Inventory!
Automated and Scheduled Pricing!
Detailed Auction Summary Dashboard with Useful Notifications!
Make a Best Offer!
Buy it Now and Save Valuable Time!
Email & Text Message Notifications!
Purchase & Sold History!
Vehicle Watch List!
Custom Vehicle Alerts & Searches by Year, Make, Model, Trim Style, Color, Mileage & One Owner!
Eliminate "IFS" - CarFax Reports, Customized VIN Decoder & Vehicle Condition Reports!
Buy One Owner Vehicles!
Directly Purchase Private Seller Vehicles!
Individual Dealer Group Auctions Available!
AND MUCH MORE!
To Request a Free Demo, click here or For Sales Inquiries Call 330-865-7641 ext. 105