Responsive Websites
Responsive websites ensure that the design, development and layout responses accordingly to the user's screen size, platform and orientation. Responsive websites are designed to optimize a user's website browser by creating a flexible and dynamic web page; formulating the web page size for the viewing device.

The biggest advantage of a responsive website is a higher ranking in Google (SEO). Since a responsive website replaces the need for multiple websites, such as a mobile website, you are strengthening your website's SEO placement by utilizing only one strategic URL as well as eliminating content duplication.
Responsive websites are very user friendly. As noted by Think with Google, there is over a 60% chance that users leave websites because they are too difficult to navigate and use. A responsive website ensures a quality user experience since there is no need to manually adjust images and text (from either by "zooming in" or "pinching" the viewing area).
Complete Websites
Because our Inventory Module includes a complete database of a dealer's used and/or new inventory, integrating our Website Templates with our Inventory Module creates unique opportunities and capabilities at affordable pricing. Specific categories or vehicles can be featured on the Home Page. Examples include: Budget Vehicles, Vehicle Types, Manager Specials, or scrolling aged inventory.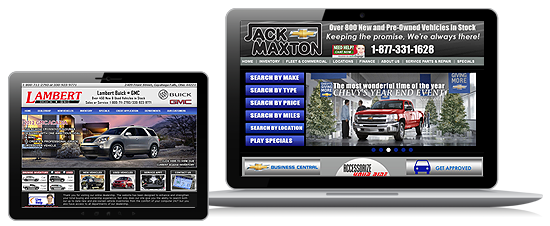 Many different templates are available. Utilizing various color schemes, logos, and content give the appearance of customization without the associated cost and involvement. Our Templates load quickly, navigate easily, and highlight key content for maximizing site effectiveness and conversion. We also employ the latest Search Engine Optimization techniques to maximize exposure. Full Reporting is included, detailing traffic sources, patterns, and keywords.
Many of our inventory clients switched from national competitors to our websites for the cost savings and improved responsiveness and yielded better results in the process! Our website templates are affordable and effective with quick turnaround times. But "customer service" is perennially mentioned as the top reason for satisfaction.
Our development team has been creating and hosting auto dealer sites for over 15 years. Contact us to discuss how we can improve results, save money and reduce the stress and workload typically involved with website changes.
Mobile Websites
Did you know that over 70 percent of consumers said they would access a dealer's website from the dealership's lot using their mobile device?
Also, in a recent study by Nielsen Mobile, 12 percent of Internet web traffic comes from mobile devices in the United States and 50 million people use a mobile device on a consistent basis! Because mobile Internet access is growing at the rapid rate of one million subscribers a month, industry experts expect these statistics to grow exponentially!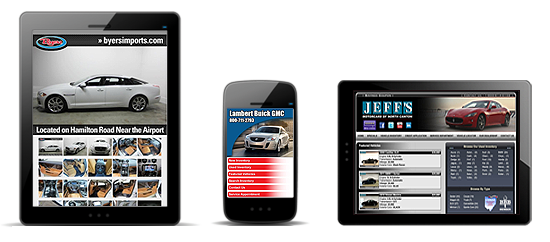 The "Mobile Web" is exploding at an unbelievable rate!! A mobile website will ensure your dealership has a competitive advantage by allowing your customers to access your inventory from anywhere!
Don't get left behind by not capturing all your possible Internet leads! GO MOBILE TODAY!!!
Micro Websites
"Microsites" are a new trend in online vehicle marketing. Microsites are supplemental websites devoted to a specific topic or event, or branded separately from other company products. They usually have unique domain names, relating to the restricted content They can also be used to track results from specific campaigns- TV, radio, print, or Internet.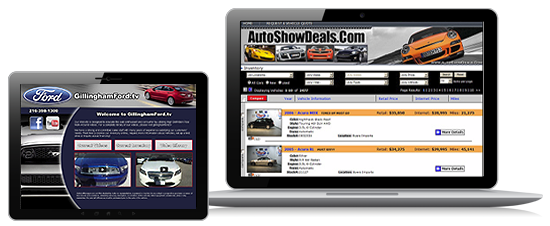 Examples include themes such as: Auto Show Deals, Tent Sale Event, Spring Service Specials, and Certified Used. Other popular uses for microsites are direct marketing campaigns, radio campaigns, and Search Engine Marketing campaigns.
Utilize our existing sites or allow us to custom design your own.
Inventory Templates
AutoLotManager offers a wide array of website products for dealers. While we can send data files to other website developers, many of our Inventory Module clients choose to either "frame in" or "link" our Inventory Templates with their existing websites.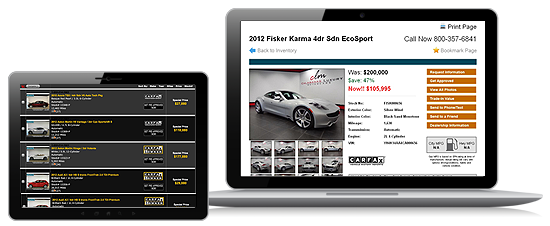 We offer several design choices, but all of our Inventory templates update in real time, load quickly, sort conveniently, and provide easy to navigate searches, attractive presentations, informative data, and most importantly "Calls To Action" for maximizing lead opportunities.
E-Commerce Solutions
With over 30 years of combined website design, development and programming experience, AutoLotManager can create an e-commerce presence for your dealership that is easy-to-manage and more importantly, simple and user friendly!

Over the years, our staff has programmed and created some of the most sophisticated software and website applications for several industries. We are now extending and utilizing our vast knowledge and software architecture to help dealers advertise and sell their products securely online. We create web based applications and solutions that get results!
Website Reports
Informative and Accurate Website Reports & Statistics
AutoLotManager offers one of the most informative and accurate website reports in the industry. Whether you are just interested in general statistics or running a Pay Per Click (PPC) Adverting Campaign, our reports leave nothing behind. Our reports show complete traffic results for hourly, daily or weekly time frames.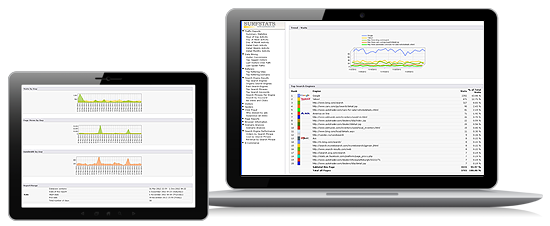 Track search engine results, data mining, site and domain referrers, unique visitors, robots and spiders, click fraud, page reports, browser information, search engine performance and much more!
To Request a Free Demo, click here or For Sales Inquiries Call 330-865-7641 ext. 105