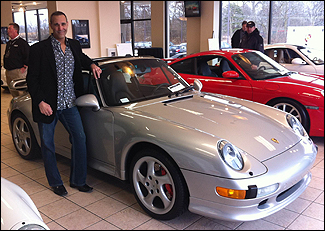 Dale E. Malick, President & Co-Founder
As president and co-founder of AutoLotManager.Com, I would first like to personally thank you for considering our company as a marketing partner.
I am confident our companys products and services can help your organization achieve greater results, as over 300 of our clients have found over the past ten years. Our combination of innovative technology, affordability, quality control processes and experience should make AutoLotManager.Com a clear choice for your online Inventory, Customer Relationship Management and Marketing program.
I believe our true competitive advantage will reveal itself after you've become a client. Our exhaustive commitment to professionalism, attention to detail and sense of urgency at every level of our team is unmatched in the industry. Our impressive growth, industry awards, and unmatched customer retention rate all result from that commitment, as embodied in our mission statement:
AUTOLOTMANAGER.COM MISSION STATEMENT
AutoLotManager.com is committed to helping auto dealers improve marketing. Our outstanding customer service, unique products, and superior technology help dealers lower advertising costs while increasing sales, margins, and profitability. We select, train, and empower associates to exceed expectations of clients by displaying a positive attitude, strong work ethic, problem solving skills, and the highest ethics.
On our website you will find the details about what makes our products better, our service more consistent, and our value proposition more economical than competitors. But those are merely the whats and hows of our story. I believe the most impressive and influential aspect is our amazing customer retention and satisfaction levels. Our dealers believe in us, and stay with us!
I am very excited and proud to introduce our newest product, AutoLot Auction. AutoLot Auction allows dealers to electronically buy & sell wholesale vehicles and aged units at a fraction of the traditional auction fees. The result is better inventory management!
The process is simple! Once your dealership subscribes to AutoLot Auction, vehicles can be manually selected or automatically sent to the auction based on the Age of the vehicle (days in inventory). For ease of use, both the starting auction and buy now price can be scheduled and automated. AutoLot Auction saves your dealership valuable time by setting-up and creating vehicle alerts that will notify you when a matched vehicle is added in the auction. AutoLot Auction can save your dealership thousands a month by eliminating "Wholesalers" by selling your "Passed" vehicles directly to other dealers. AutoLot Auction can save your dealership even more money compared to standard auction purchase and sale transaction fees! SAVE $1,000's! AutoLot Auction charges a very modest monthly service fee to sell and or purchase unlimited vehicles! And don't worry about "IFS" as CarFax reports are available within each auction listing.
Thank you again for considering AutoLotManager.Com. You have my personal assurance that we want to earn your business now and will work hard to keep it in the future! To prove that, please feel free to contact me before or after you become a client.
To Request a Free Demo, click here or For Sales Inquiries Call 330-865-7641 ext. 105