Business Opportunities
AutoLotManager.com is currently seeking individuals (independent contractors) interested in reselling our products and performing related services to auto dealers. We are considering all markets throughout the United States.
AutoLotManager.com is a 15 year old Akron, Ohio company which has experienced consistent, explosive growth in our region. We have methodically added market share and expanded geographically throughout Ohio, and into, Tennessee and Kentucky, with over 250 dealerships under contract. Dealers appreciate our sense of urgency, flexibility, skills, ease of use, and cost control. We enjoy an unprecedented level of customer satisfaction and retention. Our proven products and business strategies create exciting opportunities for Resellers for attaining similar success in new markets.
AutoLotManager.com currently employs an extensive staff of office personnel and field staff, supporting our effort to help auto dealers market vehicles more efficiently. The owners have an extensive background in Internet development and the automotive retail industry.
AutoLotManager provides a reliable, well-established backbone to assist dealers in their marketing efforts, particularly in Internet-related activities. Our low cost, cutting edge technology, proven business processes, unequaled support, and superior products create an unparalleled opportunity for success in Online Inventory Management. These challenging times actually present a BETTER environment for our selling efforts. We typically REDUCE EXISTING EXPENSES for our clients, even as we increase their own sales opportunities online through improved data and photo collection, reliable 3rd party feeds, and unique website inventory displays.
Key products include Inventory Management (data collection and distribution), Websites and Inventory Templates, Marketing Tools and our newest product, AutoLot Auction. Our award-winning solutions have helped hundreds of dealers save time and money while improving results!
Affordability, flexibility, simplicity, quality control, and customer service separate us from competitors!
What We Can Provide
AutoLotManager is a proven, successful solution for auto dealers. We save dealers money, improve efficiency, and get results. Many vendors make similar claims, but we have the real-world proof to back it up. We have built a loyal customer base of several hundred dealers and our retention rate speaks for itself. But feel free to ask for our extensive referral list and speak to our current clients directly about their experiences.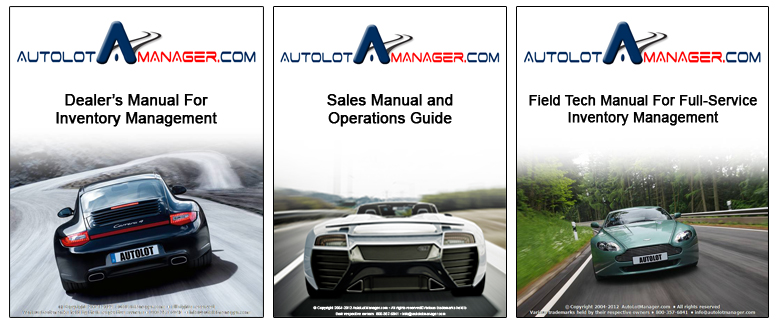 Our system is entirely Internet based. While there are minimal requirements for hardware and software, Resellers aren't required to buy any special or specific equipment. Essentially, only a computer (or device) with Internet access, camera, and printer are required. As newer, less expensive and more powerful devices are introduced in the market, they can be easily assimilated into our process.
AutoLotManager provides the technology, experience, and support to help our Resellers succeed!
Our administration site allows Resellers to add and edit dealerships themselves (including updating dealers' 3rd party feeds nightly), add & edit their own sales & field staff, and invoice dealers for field work.
Our User and Sales Manuals detail all aspects of our products for dealer personnel and Resellers alike. We also have Training Manuals, Operations Guidelines, and our Employee Handbooks available to Resellers if they choose.
Our Window Stickers and Website Templates create consistent, high quality products at affordable pricing and quick turnaround times. Partnerships with other vendors add additional resources for dealers and income opportunities for our Resellers.
Our office staff and upper management are accessible for customer support, problem solving, and customized solutions for any situation. We understand the urgency of today's challenges for dealers and we respond accordingly. For example, customizing a data feed to include only 60 day units, training a new manager, participating in an important sales call, phone training on a Saturday for a new employee, or getting a website online within 72 hours of notice in an emergency.
We'll provide simple, wholesale pricing to Resellers based on the number of dealers.
What We Seek
AutoLotManager recognizes the unique challenges involved with today's retail car business. Successful Resellers will need sales talent, financial resources, industry connections, organizational skills, and experience. AutoLotManager seeks Resellers with proven track records in these areas, preferably within the automotive retail realm. Key factors for success include: reaching key decision makers in dealerships, presenting product benefits skillfully, closing business and executing proper paperwork, overseeing the performance of Field and office activities, effectively communicating with clients, team members, and ALM staff.